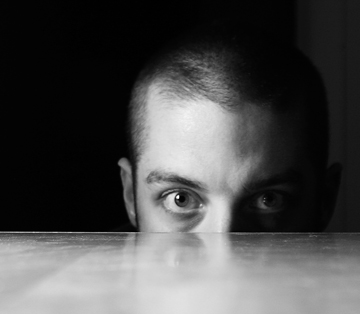 I was born in Cincinnati but left early. I've lived in the suburbs of Detroit and Indianapolis. I learned about life living in small farm towns outside Lansing and Grand Rapids. For the last six years Wyoming (MI) has been my home and since 1999 all of West Michigan has been "where I'm from." I have a Bachelors of Science in photography and journalism from GVSU. Traverse City is my weekend getaway and the UP is my escape. I'm pretty sure I'll never leave Michigan – but I yearn to return to southern Italy as the trip from 2008 awoke me.
I am a photographer first, then an artist. I'm also a little bit of everything else wrapped into one, which can clash. I'm new school with an old school twist. I'm a simple man with simple needs but it's very complex. I love the arts, but am a jock at heart. Clean modern lines catch my eye, but so does the decoration of yesteryear. Feed me nothing but the best while lounging in our own private suite, but if you have a bed of a truck and something cooked on a stick over the fire it will do just fine; I actually prefer that. I want to live in the city, up on the higher floors – wait, I'd rather live in the woods on the edge of a farm. I love tech gadgets but must know how to do everything the way they used to do it. I can do freestyle, I can do regimented. I know the business end while taking care of the creative end.
I've worked construction, demolition, banking, mortgages, sales, landscaping, photo-labs, management and played collegiate varsity sports. I'm rough & tough, clean & sharp, sensitive & caring, blunt & sometimes seen as rude – but most importantly, I can read you like a book.
I enjoy any variety of photography and have pretty much done it all at some point. There are genres that I won't do again, there are genres that I'll only do for friends. I won't settle, and I'm learning to say no. Exposure does not pay bills.
A good black and white photo gets me really excited. I really like strong contrast. Landscapes are great and I'll make those images all day, but as of late I've really been studying street photography and people. I don't focus on people enough.
I'm a dreamer but hate waiting for dreams to come true so I'll find a way to make it come quicker, even if you tell me I can't.
I love to cook but am horrible at following recipes – I prefer a little of this and a little of that. Red meat and I are best friends, but fresh vegetables are fantastic. I always have a freezer full of venison, I buy fresh chicken, and I'm careful with pork. I grow all my own produce from seed in the summer. I've assembled a curing chamber in my basement to create my own salami, maybe even a prosciutto.
I'm a people person but I love to be by myself.
Sometimes I get so deep in thought I lose hours at a time.
I've always struggled with the notion of "keep it simple, stupid" – free writing is often my release for this.
Most importantly, I just want to have a good time.
Copyright ⓒ 2009-2011 by Patrick J Garrett. All rights reserved. Unless otherwise indicated, all materials under the domain patrickjgarrett.com are copyrighted. No part of these pages, either images, text, audio or video may be used for any purpose other than credited personal use, unless explicit authorization by Patrick J Garrett. Therefore, the reproduction, modification, storage, in a retrieval system or retransmission, in any form or by any means, electronic, mechanical, or otherwise, for reasons other than credited personal use, is strictly prohibited without prior written permission.