***UPDATE*** The Historians have responded as requested.
So I randomly received an email from the grandson of the family that actually made this couch! Holy cow!! He provided more information than I ever expected to gain. I asked him if he'd let me share the information here as well and he gave me the green light.
Here is the information he gave me about my couch, and Wolverine Upholstery, founded in 1925:
Greetings:
I am responding to your website wherein you question the origin of a piece of Wolverine Upholstery. What you have is sofa from the "B" line of Upholstered pieces.  There were chairs made to match the sofa. Judging by the style, your piece was probably made in the late 50's or early 60's. Wolverine Upholstery was founded in 1925 by P.C. Cornelius with the assistance of my grandmother, Frances Blakely who served as the Secretary/Treasurer of the corporation.
Wolverine manufactured a limited line of quality upholstered pieces at several successive locations over the 40 years in Grand Rapids.  The first plant was opened in 1925 and was located on Grandville Ave at Oakes St in downtown Grand Rapids.
As demand grew, the plant was relocated to a building at Broadway at Seventh in the early 1930's and then to Monroe Ave. next to Wolverine Brass Works in the early 1940's.  In 1961, a fire destroyed the Monroe Ave. building and the business moved to another building on Front St near Sixth where manufacturing operations resumed about a year later. With the decline in the popularity of Grand Rapids made furniture in the mid 1960's (around 1964) and the majority of furniture manufacturers having relocated to North Carolina, P.C. and my grandmother opened Wolverine Furniture Showrooms on the sixth floor of the Waters Building, downtown. Wolverine Showrooms represented most of the quality lines of North Carolina furniture and was for the exclusive use of licensed interior decorators so their customers could see the furniture in room settings then choose colors and fabrics to suit their home decor. P.C., Sr. retired and the business operation went to his son P.C. Jr. who ran it until it ceased operation for good around 1983.  My grandmother passed away in 1984 and P.C., Sr. died in 1985.
I worked for my grandmother in the showroom operation when I was a teenager in the mid 60's.  My Dad worked for Grandma during the days when Wolverine actually made upholstered pieces in the 40's. I hope this brief history of the company will suffice. Wolverine made great furniture in its day.  I'm sure there are surviving pieces out there owned by others who appreciate the quality and style of the furniture produced by Wolverine Upholstery during its some 40 years of manufacturing operations.
When I was a teenager in the mid-sixties, we had a couch in our home that is the same style as yours although it was a green color instead of the beige tone. That old couch was pretty comfortable and made a great foundation for nap time.
I recall many good memories as the result of reaching out to you about your Wolverine couch.
Best regards,
Tom Blakely
______________________________________________________________________
Have you ever heard of Wolverine Furniture or Wolverine Upholstery? Yeah, neither have I.
Back during the 2011 holiday season, I was able to pick up this beautiful mid-century couch for a steal of a deal from Nueve. They are a mid-century specialty dealer located inside Lost & Found – a fantastic antique market focusing on mid-century goods with a little bit of other eras mixed in as well. Located in an old furniture factory, in a city formerly known as the "Furniture Capital of the World," it is a perfect place to find what you need.
I was able to get the couch at a steal because the maker was unknown – the tag was illegible. With a little background, one quickly learns that some amazing furniture makers have come from this city. Brand & designer goes a long way in this town – which means treasures could be everywhere. Because the maker was not identified, Nueve gave it a great price and my wife and I gobbled it up.
The design is beautiful. The fabric is fantastic. The size is perfect. But it's been eating at me that I can't read the tag. Until today. I was able to make it out – but I have no idea what it means as I'm not a furniture historian nor am I able to find anything online. And now it's eating at me again. I need your help. Can you direct me to the right place, person, company, specialist that might be able to tell me a little about this couch?
See photos below for details. The is couch 81 inches wide. The tag is under the left cushion, slightly to the left of couch center. The tag measures 3.5 inches by 1.5 inches. With a little trick lighting and the perfect angle, the word "Wolverine" in fancy lettering can clearly be read (I'm pretty proud of uncovering that). The style of the logo looks older than mid-century, but the couch is clearly from the 1950s-1960s.  Can you help me identify what I have?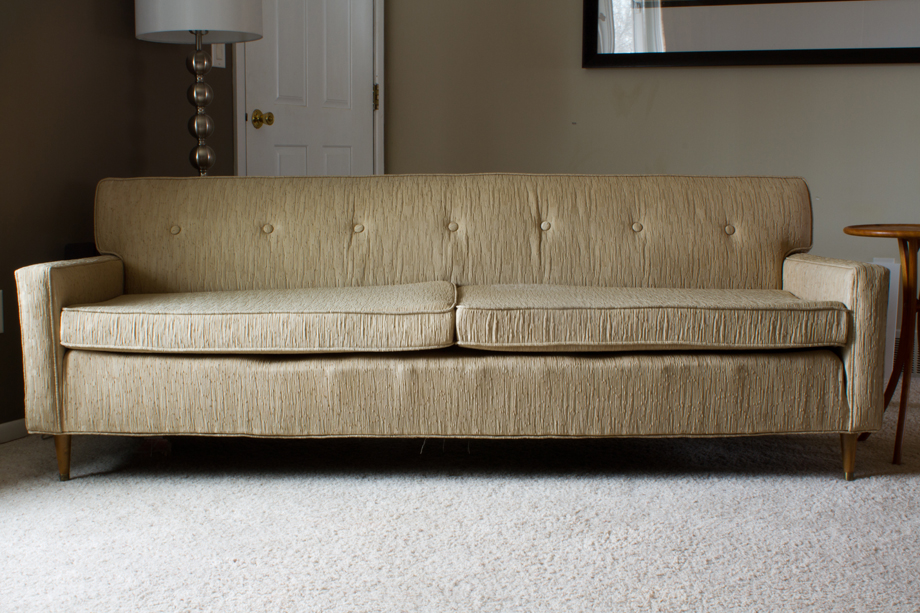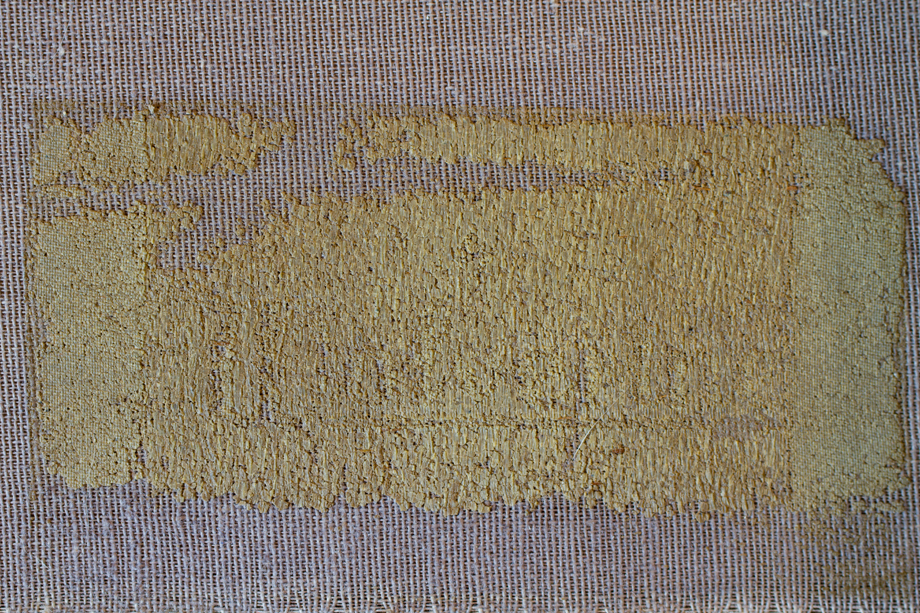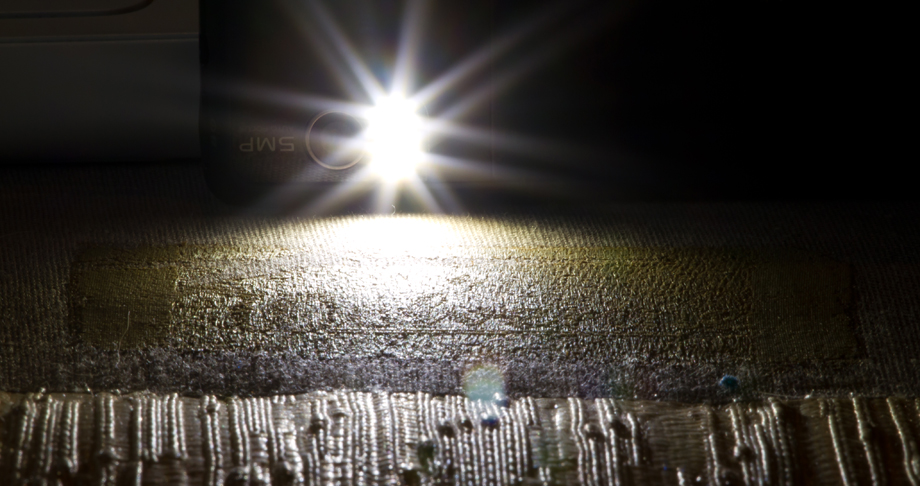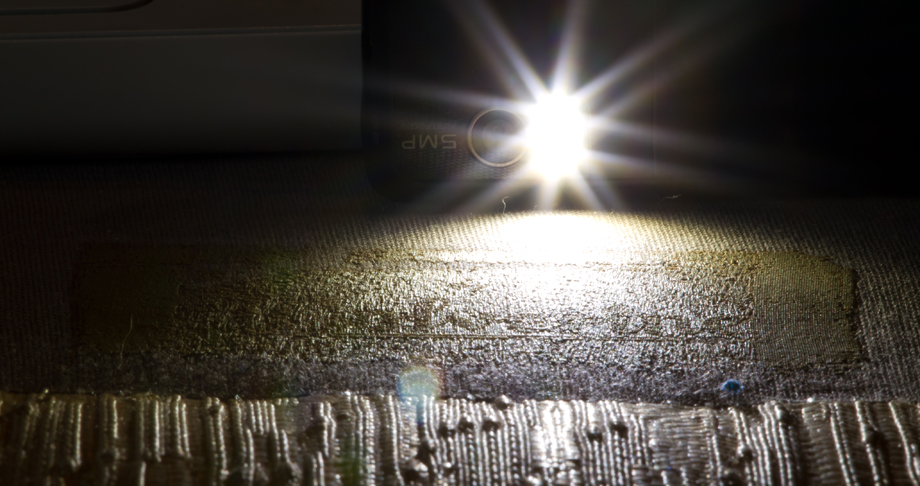 Okay historians, get to work and help me out! Let me know if you have questions!
ANOTHER UPDATE!!!
Commenter Nance has send me a photo of the tag of her couch which shows what the Wolverine Upholstery tag looked like. I love seeing "Grand Rapids" show up on random vintage items like this!